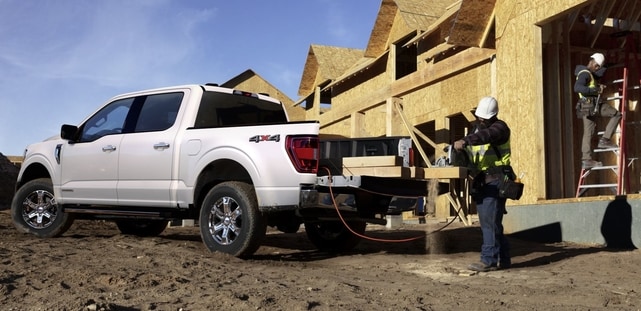 When you think of pickup trucks, what comes to mind? Probably the Ford F-150! After all, this is an extremely popular truck that's sold anywhere between 500,000 to almost a million units a year.
If you want reliability, good design, and excellent safety on the road, then you can't go wrong with the Ford 150. This is especially true if you're set on getting a pickup truck.
Are you now interested in buying the 2021 Ford F-150? Then you're in the right place. We're here to tell you all about this vehicle, including details of every trim and more!
Trims
First off, let's start with the available trims for the 2021 Ford F-150. There are 6 in total: XL, XLT, Lariat, King Ranch, Platinum, and Limited.
If you're wondering about the 2021 Ford F-150 price, then keep reading. We'll tell you what the MSRP is for each of these trims, plus the features that come with them.
XL Trim
This is the most basic trim you can get with the 2021 F-150. Expect an MSRP of around $30,000 for this trim.
Here, you'll be able to seat 5 people. You can spread out between 2 front seats and a rear bench seat. Your passengers will all get plenty of legroom, so not to worry.
This trim comes standard with a 3.3L Ti-VCT V6 engine that's capable of 290 HP. As you might expect, it's not the most powerful of engines, but it's still enough to get regular truck tasks done. If you'd like an upgrade, there's the EcoBoost 2.7L and 3.5L V6 engines, as well as the 5.0L V8 engine.
The XL trim comes with an 8-inch touchscreen with SYNC3, meaning it has Android Auto and Apple CarPlay capabilities. You'll also enjoy air conditioning, cloth bench seat, and a tilt/telescope steering wheel.
Safety features that come standard with this trim are:
· Automatic emergency braking with pedestrian detection
· Automatic high-beams
· Rearview camera
The rearview camera has the Dynamic Hitch Assist function that'll help you line up your truck's ball hitch with the trailer tongue.
XLT Trim
The XLT trim is up next, with an MSRP of around $36,000.
Here, you'll get the 3.5L V6 PowerBoost engine, which is a gasoline-electric hybrid option.
You'll enjoy the SYNC 3 infotainment system, which gives you both voice command and GPS navigation. Additional features include Android Auto and Apple CarPlay capabilities. You can upgrade to a 12-inch touchscreen if you want.
Plus, you'll get FordPass Connect. This system allows you to automate things like remote functionality and time-based unlocking/locking.
Starting with this trim, you'll have the option of adding Ford Co-Pilot360 Assist 2.0. This is an amazing package that comes with:
· Lane-centering
· Stop-and-go adaptive cruise control
Optional packages include the Chrome and Sport Appearance ones. You can also upgrade to a premium 8-speaker B&O by Bang and Olufsen sounds system.
Lariat Trim
The Lariat trim sits right in the middle of all the trims and has an MSRP of around $46,000. Here, you'll start to enjoy some of the finer features, which also come standard.
They include leather seats, dual-zone climate control, and push-button start. You can also opt for a 40/20/40 bench.
For the standard powertrain, you'll get the 2.7L EcoBoost V6. Unfortunately, you won't be able to upgrade to the 3.5L V6 engine.
The Lariat trim comes standard with a 12-inch touchscreen for its infotainment system (SYNC 3). You can always upgrade to an 18-speaker B&O sound system.
Available upgrades for the Lariat trim include Active Drive Assist, which gives you hands-free driving assist, lane-centering systems, and adaptive cruise control.
King Ranch Trim
The King Ranch trim is a bit more expensive than the other ones; it has an MSRP of around $58,000. You'll know you're looking at a King Ranch F-150, as it'll have distinctive brown leather seats. These seats are both heated and ventilated.
This trim comes standard with the 5.0L V8 engine. What's great is if you want a different engine, you can definitely upgrade! The King Ranch is upgradeable to either the 3.5L EcoBoost or 3.0L PowerStroke mills. And if you're eco-conscious, you can upgrade to the PowerBoost full hybrid system.
Inside, you'll enjoy LED lighting, as well as a wireless charger for your smartphone. You can also opt for the Max Recline seats, which allow for pretty sweet naps.
If you're considering the King Ranch trim, do note that it's only available as a 4-door SuperCrew.
Platinum Trim
As the name suggests, the Platinum trim is very luxurious. Not only does it look that way, but it also feels that way too! Its MSRP is around $60,000.
The Platinum trim has its own distinct look, with wood accent trim on the inside that match Carmelo seats, should you upgrade to those. These seats also have a massage feature, which will feel amazing on those long trips.
You can even opt for a twin-panel moonroof! This can be incredibly romantic when you take your significant other on nighttime drives.
This is the last trim where you can get a diesel engine or 8 cylinders. The smaller EcoBoost engine isn't available here either.
Limited Trim
Last, but not least, is the Limited trim. The MSRP jumps a little to around $72,000, but we promise that this pickup truck is entirely worth it!
The Limited trim comes standard with Active Drive Assist. Other standard features include multi-contour front seats (with the massage feature!) and a power tailgate.
You'll get the 3.5L EcoBoost engine standard, but you can always opt for the 3.5L PowerBoost hybrid engine.
Wondering about the upgrades available with the Limited trim? They are Active Park Assist and the Pro Power onboard generators.
The Interior
The 2021 Ford F-150 interior is a unique one. For example, if you get the 10-speed automatic shift lever, you can fold it flat with the center console. As a result, you'll get a large mobile workspace!
You can also order fold-flat front seats so you can easily sleep in your truck.
Towing Capacity
Here's where we get to the good stuff! Chances are, you'll want to use your 2021 Ford F-150 for towing.
You can tow anywhere between 8,200 to 14,000 pounds, depending on the engine you get. As far as the payload capacity goes, you'll get anywhere between 1,840 to 3,250 pounds.
Fuel Economy
At the time of writing, the EPA hasn't quite released official numbers for the 2021 Ford F-150 yet.
However, Ford themselves say that their PowerBoost hybrid powertrain is very impressive. They claim it'll allow you to get 700 miles on one tank of gas!
In addition, Ford's designed this pickup truck to be aerodynamic, which should improve fuel efficiency as well. These features include grille shutters and an automatic front air dam that activate under certain conditions (when cruising and when exceeding 40 MPH, respectively).
Safety Ratings
The Insurance Institute for Highway Safety (IIHS) has done a preliminary rating for the 2021 Ford F-150. So far, it has an overall evaluation of Good for the roof strength.
If you want to know more about this truck, we can look at the 2020 model. It received Good ratings for all the subcategories in Crashworthiness.
As far as the National Highway Traffic Safety Administration (NHTSA) goes, they haven't performed tests on the 2021 Ford F-150 just yet. However, they've selected it as a vehicle to test soon, so keep an eye out in the near future for its safety ratings from the NHTSA.
For now, we'll go off the rating for the 2020 model. You'll be pleased to know that it received an overall safety rating of 5 out of 5 stars. The breakdown is as follows:
· Overall front star rating: 5 out of 5 stars
· Overall side star rating: 5 out of 5 stars
· Rollover star rating: 4 out of 5 stars (19.10% rollover risk)
You can probably expect most of these results to carry over to the 2021 F-150 since the basic design hasn't changed that much.
As you can see, this is a pickup truck that's built to keep you and your passengers nice and safe whenever you're on the road.
Purchase a 2021 Ford F-150 From Us Today
Now that you know much more about the 2021 Ford F-150, you might think it's the perfect vehicle to purchase next. With its great choices in trims, amazing safety features and ratings, excellent fuel economy, and more, it's a no-brainer for you. In that case, you should get yourself to the nearest Ford dealer, such as us!
We have years of experience helping other car owners find their dream cars, and for the right prices too. So trust us to get you the F-150 that'll fit your budget!
Looking for a 2021 Ford F-150 for sale? Then come visit us for a test drive! Also, if you have any questions or concerns, you can always feel free to get in touch with us.