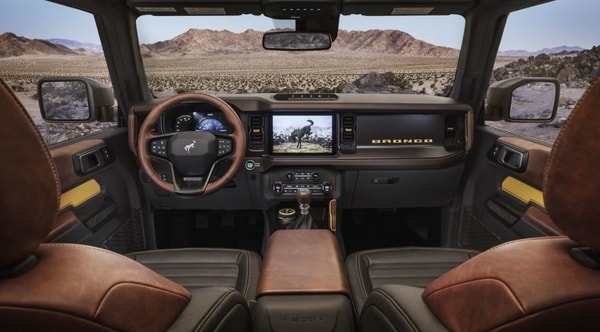 The Ford Bronco is the first SUV sold by this automotive brand, and had a fantastic running from 1966 to 1996. You might actually know of the 5th generation Bronco, as it was the vehicle OJ Simpson was driving when he had a high-speed police chase through Los Angeles.
While Ford's taken a 25-year break for the Bronco, many have waited in anticipation for its return. If you're one of them, then you might be pleased to know that the 2021 Ford Bronco is finally on the market!
If this sounds like a vehicle you must have, then keep reading. In this article, we'll discuss each trim available, as well as other important information you need to know about this SUV!
6 Trims Available
This beautifully rugged SUV has 6 different trims. They are: Base Model, Big Bend, Black Diamond, Outer Banks, Wildtrak, and Badlands. All have the option of 2 or 4 doors (which costs a little extra).
Curious what each trim has for you? Then read on to find out which one's the right one for your needs, as well as the Ford Bronco price.
Base Model
The first choice you'll have is the base model. It has an MSRP of around $30,000 (2 doors) and $35,000 (4 doors), which makes it a very affordable trim.
What's great is that even though this is the base trim, it still comes with an amazing number of features. For example, it's already fantastic for off-roading, which is what the Bronco is known for.
This base model comes standard with 4-wheel drive and an electronic 2-speed transfer case. It has a 2.72:2 low ratio!
In addition, this base model has a turbocharged 2.3L EcoBoost inline-4 engine and 7-speed manual transmission. If that's not enough for you, you have the option to upgrade to either the 2.7L EcoBoost V6 and 10-speed automatic transmission.
You and your passengers will get to enjoy comfortable cloth seats and carpeted flooring, plus you'll benefit from an 8-inch touchscreen with SYNC 4. Another outstanding feature of the base model is you get 5 of the Goes Over Any Type of Terrain (GOAT) driving modes on the electronic terrain management system, which will make off-roading a cinch.
For those of you who are worried that the base model means a lack of choices when it comes to colors, you'll be pleased to know that you have plenty of options! They include shades of white, gray, silver, black, blue, and red.
Want some upgrades? That's possible with the Sasquatch package (all trims have this available). Features include:
· Electronic locking front and rear differentials
· High-clearance suspension and fenders
· 17-inch aluminum beadlock-capable wheels
· 35-inch mud-terrain tires
· Bilstein shock absorbers
· 10-speed automatic
· 4.71:1 final drive ratio
If you're familiar with the Wrangler Rubicon, then this package can make your Bronco very similar to that SUV!
Big Bend
Next, you have the Big Bend trim, which has an MSRP of around $35,000 (2 doors) and $37,000 (4 doors). You'll get everything in the base trim, and more!
For example, you'll get 1 additional GOAT mode for a total of 6. Features that come standard include a leather-wrapped steering wheel and shift knob, tinted privacy glass, gray grille, 17-inch aluminum wheels, 32-inch all-terrain tires, and LED fog lamps.
You'll still have cloth seats in this trim, but again, they're very comfortable. The Big Bend trim also has the same powertrain, including the same upgradable options for it.
With this trim, you'll get additional colors to choose from. For instance, you'll gain the options of Cactus Gray, Area 51, and Race Red.
As far as upgrades go, you can add remote start on the automatic transmission and heated front seats. You can also add the Mid Package, which gives you:
· Keyless entry
· Ambient footwell lighting
· Auto-dimming rearview mirror
· Illuminated visor mirrors
· Reverse sensors
· 110-volt power outlet
· Dual-zone automatic climate control
· Navigation system (subscription needed)
· Ford Co-Pilot360 system
The Ford Co-Pilot360 system gives you blindspot detection, cross-traffic alert, automatic emergency braking, lane keep assist, rearview camera, and automatic high beams.
Black Diamond
If you're looking for a sturdier trim, then you'll get it with the Black Diamond one. As the name suggests, you'll get some additional features that'll make the 2021 Ford Bronco ready to tackle anything. It has an MSRP of around $37,000 (2 doors) and $40,000 (4 doors).
Here, you'll get 7 GOAT modes, as well as powder-coated steel bumpers, 17-inch black steel wheels, and 32-inch all-terrain tires. Powertrain options remain the same as with the previous trims.
This is the first trim where you'll get overhead auxiliary switches. This will enable you to add the accessories you want.
This is also the first trim where you won't get cloth seats. Instead, you'll enjoy vinyl seats and rubberized flooring that's easily washable.
You'll get 11 choices for colors, including the addition of Cyber Orange Metallic. These colors are all available from this trim and up. Upgrades include the Sasquatch and Mid packages.
Outer Banks
Perhaps you want to go off-roading but don't want such a rugged vehicle. In that case, the Outer Banks trim is great for you! This trim has an MSRP of around $40,000 (2 doors) and $43,000 (4 doors).
Many people say it's comparable to the Wrangler Sahara. You'll drive in comfort, as the Mid package comes standard with this trim.
You and your front passenger will enjoy heated cloth bucket seats. You can also upgrade to a leather interior if you opt for the High and Lux packages.
Other features the Outer Banks trim comes with are LED headlamps and taillamps, 18-inch black alloy wheels, and 32-inch all-terrain tires. For the body, this trim gets mirror caps, fender flares, and body-color door handles. You'll also get powder-coated tube steps.
Do note that trim puts you back to just 6 GOAT modes.
Wildtrak
This next trim is comparable to the Gladiator Mojave and F-150 Raptor. It has an MSRP of around $50,000 (2 doors) and $53,000 (4 doors). You'll know you're looking at the Wildtrak trim because it has a black hard top, as well as exclusive hood graphics.
You'll get everything the Outer Banks trim comes with, but more. For example, the Wildtrak trim comes standard with the Mid and Sasquatch packages! It also puts you back at 7 GOAT modes.
For the powertrain, the 2.7L EcoBoost engine with 10-speed automatic transmission comes standard. You'll get an advanced 4-wheel drive system with on-demand 4H engagement. This gives you a 3.06:1 low ratio.
Inside, you'll sit on heated cloth seats and carpeted flooring. But you can always choose to upgrade to leather seats. Other upgrades include the High and Lux packages.
Badlands
Next, we have the Badlands trim, which has an MSRP of around $43,000 (2 doors) and $46,000 (4 doors). This is the trim to get if you're passionate about off-roading!
This is a similar trim to the Big Bend one, but you'll get 7 GOAT modes. In addition to an exclusive suspension that comes with an electro-hydraulic front sway-bar disconnect, it also gets:
· 17-inch machine-face aluminum wheels (painted gray)
· 33-inch all-terrain tires
· Upfitter switches
· Heavy-duty front bumper
· Powder-coated steel rear bumper
You and your passengers will sit on marine-grade vinyl seats. You'll also get washable rubberized floors.
Upgrades you can opt for with the Badlands trim include leather seats, plus the Mid, High, or Lux packages.

Safety
Because this is such a new vehicle, there aren't any official tests and results from the IIHS or the NHTSA just yet. However, you'll be pleased to know that the NHTSA has plans to test the 2021 Ford Bronco in the near future, so keep an eye out for its results!
In the meantime, you should get peace of mind knowing that this SUV offers a wide range of safety features, even on the base trim. It comes standard with the Personal Safety System, as well as plenty of airbags, AdvanceTrac with roll stability control (RSC), inflatable safety belts, and a tire pressure monitoring system (TPMS).
In addition, there are both lower and tether anchors for concerned parents. These will help you secure your children's safety seats so that if any impacts occur, they'll remain safe and sound.
So no matter what type of household you have, you'll all be safe and secure in the 2021 Ford Bronco.
Test Drive a 2021 Ford Bronco Today
After reading this article, it's probably solidified your opinion that the 2021 Ford Bronco is exactly what you need. With its fantastic trim choices, off-roading capabilities, and safeness on the road, there's no better choice when it comes to SUVs.
So get yourself to the nearest Ford dealer to test drive this vehicle. Once you feel the power while behind the wheels, you won't even want to look at another SUV!
Ready to test drive a 2021 Ford Bronco? Then come visit our dealership today! Otherwise, please feel free to get in touch with us if you have any questions or concerns.