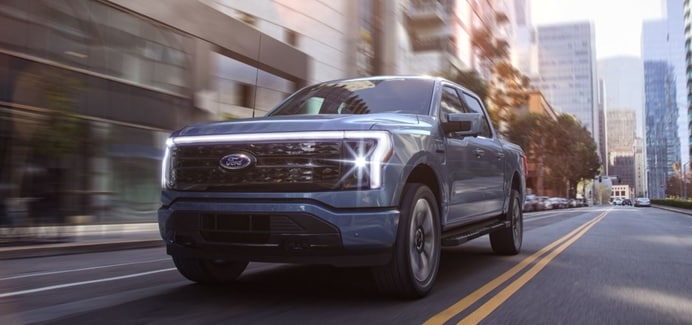 Did you know that the average passenger vehicle creates almost 5 metric tons of carbon dioxide every single year?
Depending on the lack of fuel efficiency and other factors, this number could be more for other vehicles. This is especially true of trucks. Wouldn't it be wonderful to have an electric truck that is just as strong and reliable as a diesel-powered one?
You'll be glad to know that an awesome option is now on the market. If you're curious, then keep reading to learn all about the new Ford Lightning and why it's worth the investment.
Performance
When it comes to the Ford F-150 Lightning, all it takes is around 4 seconds for it to hit 60 miles per hour. That's even faster than the F-150 PowerBoost Hybrid. The battery itself is extended-range and can generate 775 lb-ft of torque, as well as over 560 horsepower.
You have your choice of four different drive modes, including sport, haul/tow, off-road, and normal. As if a fully electric F-150 wasn't enough of a milestone, there is also the first separate rear suspension on this model, allowing for a much smoother ride.
If you opt for a standard Lightning model, then you can expect to be able to tow a maximum of 2,000 pounds. However, an extended battery can bring that max payload all the way up to 10,000 pounds. When doing a lot of towing, you won't want to miss out on the extended-range battery.
Battery Specs
What's convenient about the Ford Lightning 2022 is that you can charge it at home with ease. The extended-range model comes with an 80-amp charging station.
Are you wondering how long it takes to charge? For every hour you charge it, you'll get an additional range of 30 miles. However, there's a limit on how much you can charge it of course.
At full charge, an extended battery will give you 300 miles of range. If you opt for the standard battery, then you can expect to get 230 miles out of a full charge.
Another way to look at it is, if your battery is only at 15% of charge, then it'll take 8 hours to get it to 100%. What's great is that you can fuel up on electricity much more quickly when you got to a public charging station. With their 150-kilowatt chargers, you can have almost 55 miles added to your battery in only 10 minutes.
This should give you peace of mind if you're going on a long road trip, for instance. When driving on errands within your town, a normal charge at home should be more than sufficient.
Do you live in an area where blackouts or natural disasters are more likely?
The Lightning is more than just a transportation investment, it's an investment in survival as well. With a fully charged battery, you can power your home during an emergency for three days. If you're careful about how you use the power, you could make it last upwards of 10 days.
Storage Space
In the new Ford Lightning, the truckbed is 5.5 feet long. In fact, the dimensions are exactly the same as the non-electric F-150. This means any accessories you have for your old vehicle can be used when you upgrade to an electric one.
Instead of a noisy, polluting engine, the Lightning has what's now being called a "frunk." This is a fun word that combines "front" and "trunk." Unlike other funks, this one is something you'll find yourself using time and again because it's actually spacious and practical.
You can expect to fit around two carry-on-sized bags in there, along with miscellaneous items. You'll be glad to know that it's brimming with almost 2.5 kilowatts of juice.
By using any of the four electrical outlets or two USB chargers, you can power a range of items, including a television, power tools, or even a toaster. Not only does the frunk open and shut with the click of a button, but it's also waterproof.
Cutting-Edge Technology
This new Ford pickup is without a doubt a product of the 21st century if not the distant future. You'll feel like you own a sleek spaceship when you unlock your vehicle using the convenience of your smartphone, for example.
The FordPass app allows you to connect up to four phones, so everyone in your family will be able to have access if you'd like them to.
When it comes to road trips or spur-of-the-moment getaways, the Lightning has you covered with FordPass's Power My Trip technology. From your current charge level to the amount of weight you're hauling, the software takes everything into consideration and plans out the absolute best route for you to take. It will even let you know about charging stations on the way.
If you go on long trips often, then you should consider adding BlueCruise technology to your Ford. This will allow for hands-free driving on sections of the highway that have been approved ahead of time. So far, there are more than 100,000 miles of asphalt in America that you can take advantage of.
You could learn about the wonders of the Ford Lightning all day, but why not go out and take it for a test drive at a dealership?
Are You Ready to Ride in a Ford Lightning?
Now that you've learned all about the new Ford Lightning, you can invest in one. Without a doubt, electrical vehicles are the way of the future. Plus, your friends and family will be begging you for a ride in your awesome set of wheels.
We're proud to be able to offer you a wide selection of new and pre-owned Fords. Whether you're interested in the Lightning, the Navigator, the Aviator, or something else, we make the process of buying a vehicle easy.
You can get a free credit score estimate right through our website and then apply for possible financing. If there's anything else we can help you with, such as servicing a vehicle you already own, then please don't hesitate to reach out with questions.